Catskills Hiking Engagement Session | Catskills Elopement Photographer
Catskills Hiking Engagement Session | Catskills Elopement Photographer
As an Adventure Elopement Photographer for modern couples, I shoot a lot of alternative engagement sessions in some really fun locations. I get to travel around and go to places that are unique to the couple, finding spots at the location that look killer. When Beckah, who is a wedding photographer herself, told me she wanted me to shoot her engagement session with Steve, who is a photographer by degree, in the Catskills- I was super pumped and honored. And slightly intimidated because that's a BIG DEAL.
When she told me she wanted a hiking adventure engagement session, I was even MORE pumped. HECK YES was my answer. She told me she wanted an engagement session that was not the typical engagement session. She wanted something that was a bit alternative to the status quo and wanted a location that MEANT something to them as a couple. Because after all, engagement sessions are a celebration of the couple and their dedication to each other. They decided that they wanted to hike to their weekend camping spot up in the Harriman State Park mountains, just north of the City. My heart was fired up and my soul was ready. Being able to capture couples while hiking through nature is one of my absolute favorite things to do.
When I met them that morning, they had a proper NYC bagel with goops of cream cheese on it and a coffee ready for me. And, she casually mentioned to me that the hike was actually a SIX mile hike up and down the mountain to the spot that sits on the lake. It was a good thing I was prepared with my gear in a backpack and had my boots on. CHALLENGE ACCEPTED.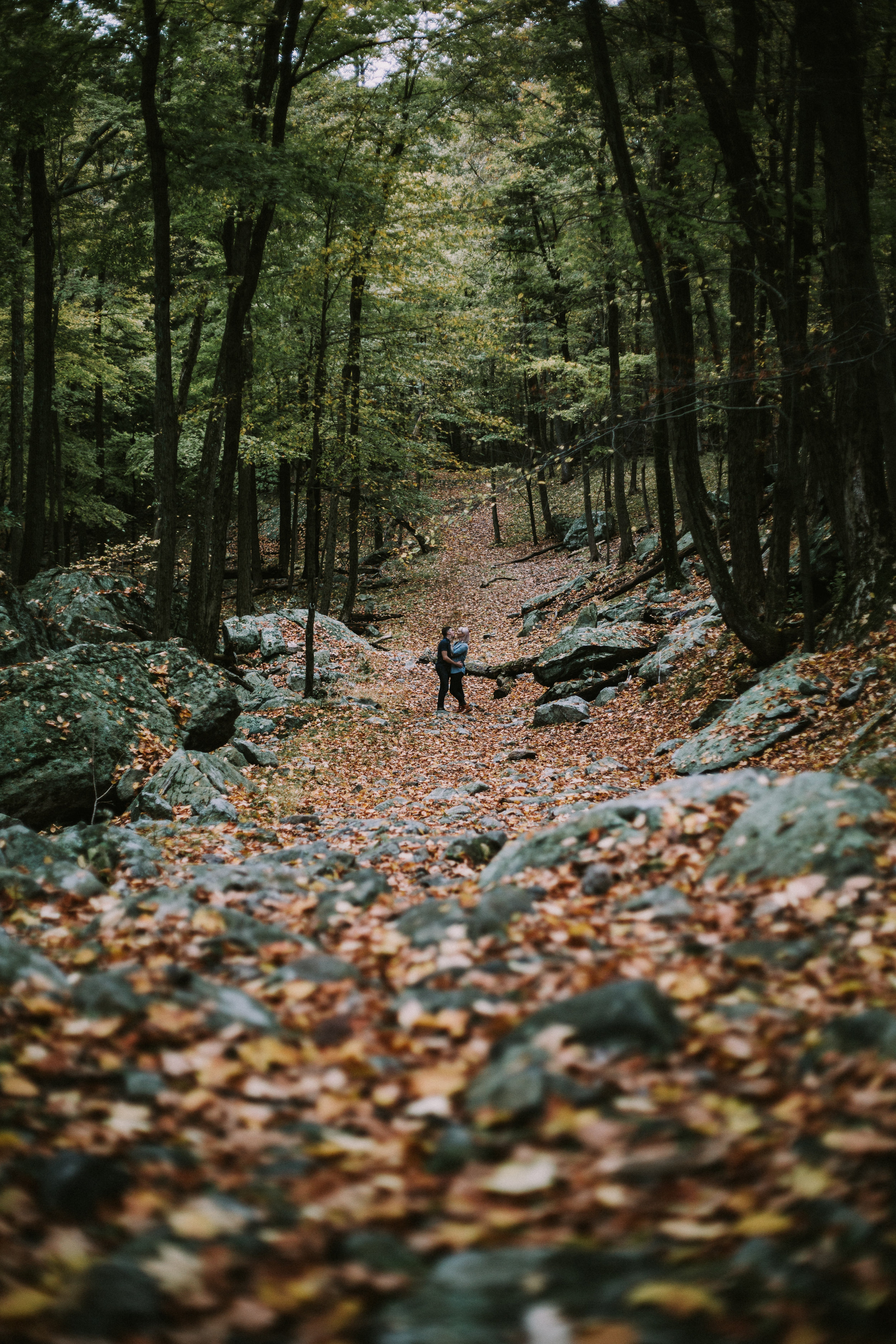 I knew that besides showcasing them and their chemistry and love they have for each other, I also wanted to showcase her ring because it is one of a kind and completely gorgeous. She had it custom made out of stones from her grandmother's ring and from her great grandmothers ring (who is still alive!). And if that is not cool enough, Beckah also made custom earrings (which she wore during the session!) from the remaining stones and made her wedding band with them as well. SO LIKE, HOW FRICKEN COOL IS THAT? It almost stole the show more so than they did.
We hiked up and down and around and got a teeeeeeeny bit lost. We adventured through the woods, on the path, off the path, on some rocks, in some leaves, and cracked jokes the whole time. We eventually made it to the camping spot where we wanted to take a tiny break to replenish ourselves.
Once at the campsite, Steve being a coffee nerd (I say with love, as I am one myself), broke out some whole bean Ethiopian coffee that he made us all a cup of with an aeropress. It was delicious and perfect. They snuggled a bit while I kept taking photos of them in their element.
After our mini-coffee break, they changed their outfits for us to shoot some more elegance in the woods. When the session was over and we called it a day, Steve decided to get naked and skinny dip in the lake, which I don't blame him. This adventurous hiking engagement session was a complete dream and we had so much fun out in the wilderness.