Elopement Style Guide for Grooms on Adventure Weddings | Adventure Elopement Photographer
Elopement Style Guide for Grooms on Adventure Weddings | Adventure Elopement Photographer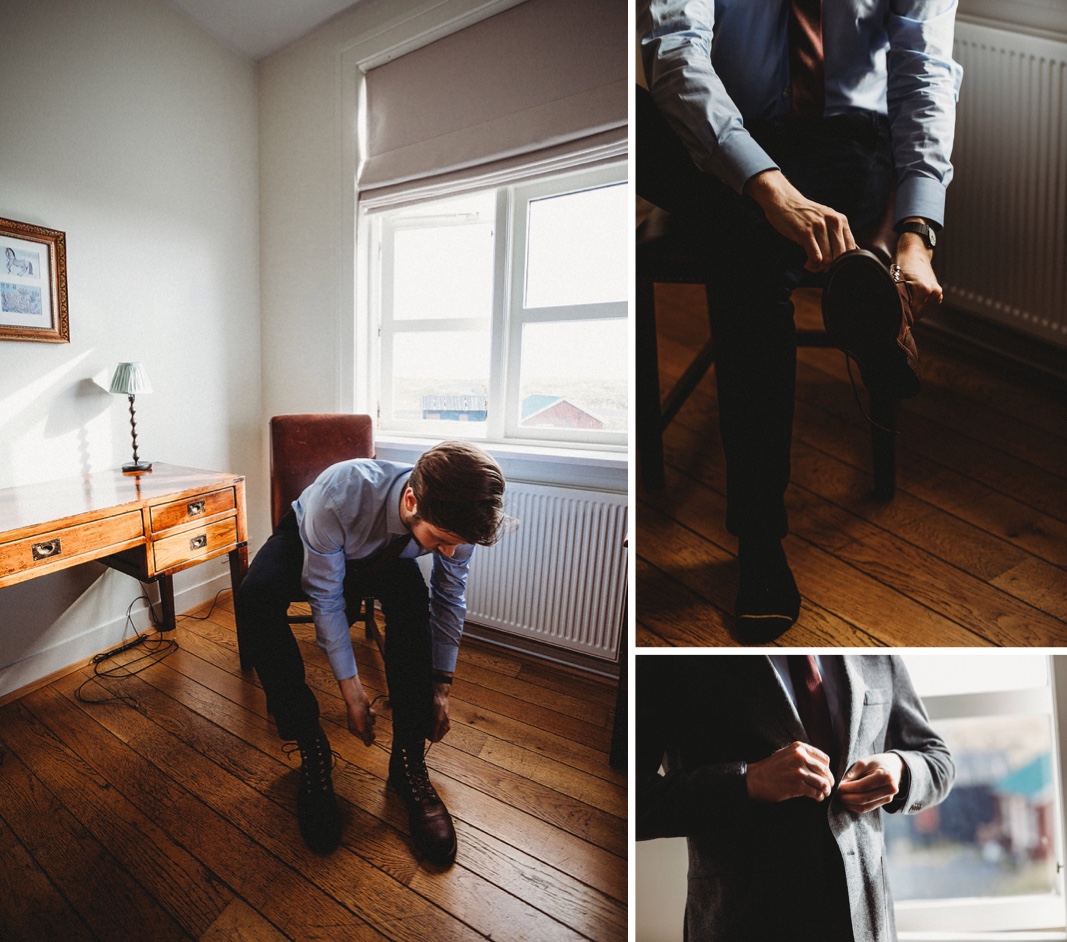 Elopement Style Tips for Grooms
(and less feminine presenting folk!)
Something rarely written about or spoken about is Elopement Style for Grooms and less feminine presenting folk, and I am here to change that!
There are so many options for brides on what to wear on your elopement, how to do your hair, what kind of florals. There are so many resources out there from blogs to Pinterest on suggestions and ideas, but I hardly ever see anything for non-brides! Many of my clients ask me 'what should we wear and what should we pack!'. Well my friends, in this blog I will give you an Elopement Style Guide for Grooms and non-feminine folk!
Don't be afraid of color on your elopement!

When you are out in some of the most epic landscapes, especially mountain landscapes, a pop of color looks amazing. It really makes you and your boo stand out from the environment in the photos. Though the traditional black is always classic and nice, being a bit bold and having a colorful suit will give your photos an extra added touch. Your elopement is also special for you, so wear something that also makes you feel special for your day. This suit here is an amazing color against natural landscapes!
2. Wear something that makes you feel comfortable! It is your Adventure Wedding, after all.
If a suit or tux isn't for you- that is totally ok! Wear something that makes you feel like you and not like there is an imposter in some clothes acting like you. You are choosing to elope to make your day about your celebration and your love, so you can literally do whatever you want. Don't shy away from wearing something that makes you feel at ease and ready for the day. This is a nice alternative to a suit if you still wanted something other than a t-shirt.

3. Pick a wedding suit that you can move around in for climbing to your elopement location, hiking for photos, & is breathable.
This is important for all climates. For colder climates or climates with a lot of hiking involved, you want a suit that will not make you sweat too much. Sweating in a colder climate could be a recipe for disaster later in the day once the sun starts setting. I suggest a Coolmax Slim Fit suit for the hiking elopement locations. For warmer climates and elopements on a warm beach such as Greece, the Tropics, Mexico, etc- having a suit that is breathable that you will not over heat in is key. Here is a great round up of some perfect summer suits.
4. Make sure you have footwear with a tread on the bottom. Hiking boots and suits are a killer combo.
I can not stress this enough for Mountain Elopements, Hiking Elopements, or Adventure Elopements in volcanic areas. If you are eloping in flat areas such as beach locations or something in civilization, you do not need tread. However, for anything else I highly suggest tread and ankle support. The areas you might be hiking through could be wet, muddy, rocky, slick lava rock, snowy, and slippery. Tread on the bottom will be key to helping you make it safely and not have to worry about anything but enjoying your moment of celebration with your boo. If you want dress shoes that are flat on the bottom, you can always bring them in your backpack and we can switch them out once we get to the elopement location. If not, that is also OK. I personally LOVE the look of hiking boots with formal wear for both suits and dresses. PERSONALLY, I hike a lot in my All Weather Vans. I love them, so if you don't want a hiking boot these could be a great option!
5. Bring something that will keep you warm. Instagram and Pinterest are liars.
Though a lot of the photos you probably see in blogs and Instagram are outerwear free, Iceland and other colder climates are pretty chilly year round. So pack something that will keep you warm and also save you from the wind. A winter parka, depending on the climate of your elopement location, is not a bad idea. Once you get to the area for photos, I will take the coats from the couple and hold them in my arms as I take epic photos of them loving on each other. Then right afterwards I run back and hand them their coats. So, even though you don't see the outerwear in the photos, chances are the couple in the photos are wearing them. I also suggest scarves, gloves, wool socks, and thermals for underneath. Ethically sourced wool and other sustainable, eco friendly materials is a big plus plus plus.
6. The power of layers & not wearing cotton for your adventure elopement. And hiking in general.
Layers. I love layers. In fact, I love layers so much I am going to write an entire blog on it. But for now, here is the skinny of it. They help wick moisture from your skin, they help keep you dry, they protect you, they insulate you, AND they help keep you from overheating. Here is the quick story of layers:
Base Layer: This is your under layer. You want something that will wick away moisture as you sweat. This should be a polyester or wool, and not cotton. You want to keep your body dry, have a layer that wicks the sweat away from the skin, will disperse the sweat across the garment, which will eventually evaporate. For hiking in sunny areas, a base layer with UV Protection is ideal.
Mid Layer: This is your insulating layer. This layer is what will help you regulate your heat. This can also be an outer layer in the water months or warmer climates. You will want either a lightweight mid layer or a thicker mid layer to retain more of your heat. I suggest wool for this also, and not cotton. Cotton will just hold onto the dampness which you do not want on your body. (HOWEVER: If you have a dress shirt or suit that is mostly cotton and you will be doing a lot of hiking or out in the rainy elements, make sure you have a wool base layer and then a waterproof outer layer.)
Outer Layer: This is your shell layer. It shields you from the elements you might be in. I guess something that will keep warm enough with a massive hood to shield you from the wind and snow in the winter cold months, or a lighter and waterproof jacket in the spring / summer / fall in colder climates. If you are eloping in a warmer climate, I still suggest having a light, packable, easy to roll up jacket that you keep in your backpack. Even in warmer climates a rainstorm could hit you.

7. Gloves to keep your hands warm before and after exchanging your rings during your elopement. And, wool socks.
This sort of goes without much explanation, but I won't leave you hanging. In colder climates the wind can be FIERCE. It doesn't take very long for fingers to start cursing you out. So, bring gloves to have with you for most of the day and take them off only when necessary. As far as socks go, wool socks are the best and I don't want to hear otherwise. ;) (Here is an article to back up my claims if you don't believe me.)
I hope this helped put you on a path on what to pack and wear for your Adventure Elopement out in the wild nature! If you would like to read some more, check these out!